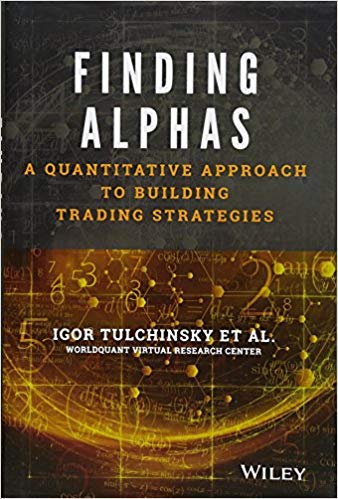 HOW TO IDENTIFY POTENTIAL PROFIT OPPORTUNITIES FROM MARKET BEHAVIORS OTHERS HAVE BEEN UNABLE TO QUANTIFY
Finding Alphas seeks to teach you how to do one thing and do it well – design alphas. For financial engineers, quantitative researchers, investment analysts, and those aspiring to be quants, this is the guidebook for reliable, up-to-date coverage on the ins and outs of alpha design.
The collection of essays inside explores how to hone and retain a cutting-edge when trying to make sense of the ever-increasing amount of quantifiable changes happening during trading. From abstract theory to concrete technical methods, Finding Alphas illuminates basic techniques as well as unique approaches to alpha design, helping you to develop your own design style. A fascinating range of methods for uncovering the signals in data are explored. On your way to mastering alpha design, this robust training tool will equip you with:
The seven habits of highly-effective quants.
A full treatment of all the key technical aspects of alpha design.
The know-how to develop a disciplined process for alpha discovery and securities trading.
A web-based simulator, WebSim ®, for creating and fine-tuning successful alphas.
As the amount of data continues to grow in the financial industry, the advantage will go to the trader who can see the whole picture, who can combine millions and billions of subtle and illusive signals, and who has honed their skill set with the information provided by Finding Alphas.